iSMP3
Turn your iPhone 6 into a secure EMV Chip & PIN mobile payment solution
Security

Smartcard

Magstripe

Contactless

Bar code
An all-in-one mobile point of sale (mPOS) solution for your iPhone 6
Designed for merchants looking for a secure and seamless mPOS solution
Compact and robust, designed for indoor and outdoor use
Accept all payment methods including EMV Chip & PIN, magstripe and NFC/contactless
iPhone 6 Compatible, MFI-Certified
iSMP3 is compatible with iPhone 6, enabling merchants to transform the smartphone into a secure mobile payment solution. iSMP3 is MFI certified: it is 100% compliant with Apple performance and development standards.
Universal Payment Platform
iSMP3 accepts all forms of payment: EMV Chip and PIN, magnetic stripe and contactless. iSMP3 is compatible with Ingenico Group's existing worldwide portfolio of payment applications. The iSMP3 meets all security and payment standards: EMV, PCI PTS, Contactless PayPass™ & payWave.
iOS interface
A smart software interface integrates seamlessly between the iSMP3, the payment application and the iOS business application.
Integrated 1D/2D Barcode Reader
Integrating a high-end 1D/2D barcode reader, iSMP3 meets the most demanding professional needs, whether rapidly scanning multiple items at a variety of angles or validating a wide range of customer coupons (barcodes, QR codes).
Long-Lasting Battery Life
Equipped with a lithium-ion battery, iSMP3 works non-stop for over a day, even in the most demanding retail use cases.
Bluetooth Connectivity
Embedded Bluetooth technology enables effortless connectivity to external devices. The iSMP3 uses a Bluetooth class II chip with 128-bit Bluetooth encryption for secure connection to external peripherals including printers.
Designed for Mobility
Featuring a long-lasting battery, pocket-sized design, lightweight and robust casing, iSMP3 is ideal for both indoor and outdoor mobile use cases.
Designed for Retail
Thanks to its performance level and robust design, the iSMP3 fits in well in the most demanding environments. The 6 bays docking station, iDS, enables retailers to optimize their fleet management, with ease of use and set-up.
Product Information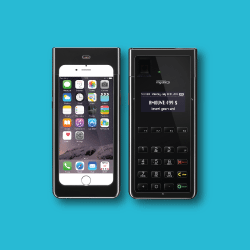 iSMP3
Turn your iPhone 6 into a secure EMV Chip & PIN mobile payment solution