Moby/6500
Reinvent the mobile PIN pad for micro-merchants

The Moby/6500 was designed with micro-merchants in mind. It aims to break down the barriers to cashless acceptance and capture more merchants. The Moby/6500 delivers an optimized Total Cost of Ownership with no compromise on the user-friendliness and long-term robustness in demanding usage conditions. It strikes the perfect balance between value and price.
The Moby/6500 benefits from a sleek and compact design which brings a great user experience thanks to its large screen and front position of the NFC antenna. It accepts all card-based payments including EMV Chip & PIN, NFC contactless and magstripe.
The Moby/6500 can easily be connected via Bluetooth with over 500 iOS and Android smartphones and tablets. Combined with the Ingenico mPOS EMV Software Development Kit and a single generic PIN pad application and gateway, the Moby/6500 leverages the maturity of the legacy platform.
Datasheet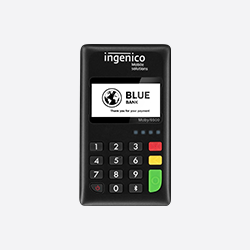 Moby/6500
Reinvent the mobile PIN pad for micro-merchants