Lane/3000
Designed for all payment types

Security

Smartcard

Magstripe

Contactless

Color display
Expanded payment options with both traditional and alternative payments
Integrates easily into any environment
Enhanced payment security with PCI PTS 5.x certification
Future-Proof Payment Security
PCI PTS 5.x certified, the Lane/3000 is natively designed to meet local regulations and ensure long-term compliance. It uses the latest cryptographic schemes with future-proofed encryption. Additional antitheft systems, such as cable removal detection and Kensington locks, offer further protection.
Support for All Payment Methods
The Lane/3000 supports EMV chip & PIN, EMV chip and magstripe transactions, as well as the broadest range of contactless NFC, mobile wallet and alternative payment methods.
Easy integration
Compact and robust by design, the Lane/3000 integrates easily into any environment.
Lower Total Cost of Ownership
Support for semi-integrated configurations simplifies compliance with the latest PCI DSS security standards and minimizes your compliance costs.
Industry-proven and Reliable Technology
Backed by 30 years of development experience, the Telium TETRA operating system is the perfect combination of payment expertise and web-based design creativity. It offers powerful security mechanisms to protect transaction data while enabling fast checkout.
Datasheet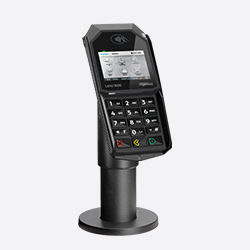 Lane/3000
Designed for fast payment at lane