Move Bio
Combines EMV/PCI security with the convenience of fingerprint biometrics


Security

Biometric

Standards

Smartcard

Magstripe

Contactless

GPS

Connectivity
Accept all payment and authentication methods in-store
Deliver financial inclusion services to targeted population
Pave the way for payment schemes relying on national ID programs
Keep control of customer verification while reaching the unbanked population
Maximum security
The Move/2500 B is PCI-PTS 5.x certified. Its Telium TETRA OS uses the latest cryptographic schemes with future-proof key length. For match-on-server verifications, any biometric template is encrypted using Ingenico E2EE.
All payment options
The Move/2500 B enables biometric payment in addition to NFC applications, EMV Chip & PIN, swipe and contactless.
Designed for Mobility
Designed for both indoor and outdoor use, the wireless Move/2500 B is the perfect business companion for merchants. It goes the last mile to bring financial transactions to the unbanked.
Guaranteed terminal availability
In a single terminal, the hybrid Move/2500 B comes with wired (Ethernet, PSTN) or wireless (3G & GPRS, with Dual SIM) communication capabilities. It then guarantees terminal payment acceptance availability in the event of network failures.
Biometric payment under banks' & acquirers' control
Under EMVCo's latest applicable specifications, fingerprint biometrics is obtaining the status of Cardholder Verification Method. A strong differentiator for banks with a customer acquisition strategy.
Telium TETRA OS: Secure in payment
Backed by 30 years of experience and with its user-friendly interface, the Telium TETRA operating system incorporates the best security mechanisms to protect transaction secrets and leverage the unique portfolio of Ingenico payment applications.
Leading fingerprint technology
Incorporating the best-in-class fingerprint module, the Move/2500 B matches prints in a split second. CBM-E3 from Idemia complies with FBI standards, with PIV-IQS certification and process FIPS 201 approved algorithms. It is IP65-tested and ensures long-lasting features and outdoor readiness
Datasheet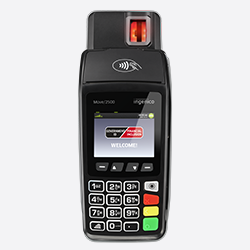 Move/2500 B
Combines EMV/PCI security with the convenience of fingerprint biometrics