Desk/1000 Series
Nimble design to boost checkout at the counter

Security

Smartcard

Magstripe

Contactless
Expand payment options with both traditional and alternative payments
Affordable and reliable PIN pad to enhance payment experience
Part of the Desk/series offering a unified consumer-facing solution
Safe and secure payment
The Desk/1000 series is certified to the industry's highest security standards.
All Payment Options
The Desk/1000 series supports EMV chip & PIN, signature capture, and magstripe transactions, as well as the broadest range of contactless NFC, mobile wallet, and alternative payment methods thanks to an optional camera.
User-friendly and intuitive interface
Equipped with a clear contactless zone, a large keypad, and an advanced consumer display, the Desk/1000 series enhances usability and accelerates the checkout.
Easy integration
Compact by design and robust, the Desk/1000 series fits easily on any counter.
Easy connectivity
With its USB connection, the Desk/1000 series can be connected to any Desk/series device and offers a unified consumer-facing solution. With its plug-and-play installation, the Desk/1000 series can easily be connected or disconnected.
Datasheet - Desk/1000 series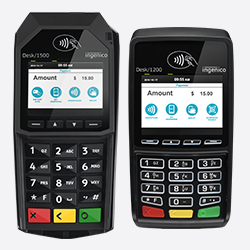 Desk/1000 series
Ingenico's desktop range was designed to allow merchants to accept all payment methods and enhance the consumers' point of sales experience. With their limited footprint and high reliability, our desktop terminals can easily be integrated on a counter and meet the needs of even the most demanding situations. Their variety of features provide excellent consumer engagement capabilities. When combined with Desk/1000 series PIN pads, the desktop range offers a unified customer‑facing solution.