iPP 200 series
The intuitive desktop PIN Pad for PIN entry and contactless payment
Security

Contactless

Color backlit
Accelerate secured payment at the counter with consumer facing contactless and PIN entry solutions.
Integrate the very compact iPP 200 series into any counter-space.
Connect the iPP 200 series to any countertop in a few seconds thanks to plug & play installation.
Highest Security
The iPP200 series meets the latest hardware and software security requirements including: PCI-PTS 2.x and 3.x. Also complies with SRED and open protocol modules. The optional PIN privacy shield guarantees confidentiality of PIN entry.
PIN Entry and Contactless
Offering secured PIN entry and Contactless payment, the iPP200 series also allows NFC new payment add-ons such as loyalty programs, couponing and wallets use cases.

Designed for Merchants
Slim and lightweight, optimized for fast check-out, the iPP200 series is designed to meet merchant environment needs. Very compact, the iPP200 series takes up minimum counter space. Color backlit display, 15-key keypad, and 4 function keys provide day-to-day convenience and comfort.

Enhanced Readibility
iPP280 integrates a 4-line-display with adjustable color backlight to enhance readability for consumers.

Easy Connectivity
Integration with Ingenico ICT series has never been easier thanks to the iPP200 series' powered USB connection.

Telium 2
Powered by Ingenico, Telium 2 technology is the result of 30 years' experience in the payment industry. Secure, highly integrated and fast, Telium 2 is the world's best platform to provide payment services. It provides a fully scalable, reliable operating system embedded into the 22 million terminals deployed worldwide.
Product Information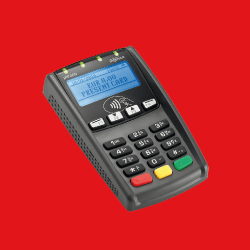 iPP 200 series
The intuitive desktop PIN Pad for PIN entry and contactless payment