APOS A8
An entire point of sale that fits in the palm of your hand



Security

Smartcard

Magstripe

Contactless

GPS

Multimedia

Camera

Touchscreen
Facilitate commerce with a mobile and compact all-in-one point of sale
Take advantage of an Android community business application
Speed up the checkout process, accepting all payment methods
Leverage existing Ingenico service platforms & expertise
Rich business applications ecosystem
The APOS A8 brings the entire Android-based software ECR portfolio to support merchants embracing Android tablet-POS to drive their business and take advantage of the most open set of business applications on the market.
All-in-one mobile POS
The APOS A8 integrates, in a handheld terminal, the entire merchant point of sale, making use of the ECR application. It provides a large range of checkout services such as secure payment acceptance, barcode scanning or receipt printing.
Business-centric user interface
Featuring a large 5.5-inch touch screen and powerful processing capabilities, the APOS provides merchants with a best-in-class user experience to operate their integrated POS in an all-in-one handheld device.
Fully-secure payment acceptance
Relying on international payment security certifications such as PCI-PTS, the APOS A8 delivers a secure payment acceptance service integrated into a tablet-POS.
All payment options
Featuring signature capture capabilities, the APOS enables all payment methods, from EMV Contactless or chip & PIN/ chip & sign to traditional swipe methods. It also supports new methods such as NFC couponing or mobile wallets.
Seamless NFC payment
The APOS A8 boosts NFC payment by offering customers a seamless experience through a dedicated card-reader zone, dedicated LED-zone and faster transaction flows.
Maximized network availability
Providing full-spectrum wireless connectivity with embedded 4G/3G/2G and Wi-Fi, the APOS A8 enables payment acceptance anywhere while optimizing communication costs.
The Estate Manager
The APOS A8 is compatible with The Estate Manager, Ingenico's comprehensive fleet management solution.
Product Information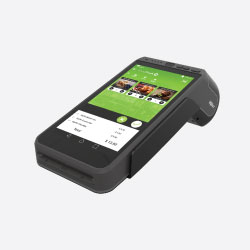 APOS A8
An entire point of sale that fits in the palm of your hand