iSC Touch 480
Reinvent multilane checkout. Rethink consumer engagement
Security

Smartcard

Magstripe

Contactless

Signature capture

Touchscreen

Multimedia
Reinvent traditional checkout with fast, easy and interactive POS solution.
Transform consumer experience with an extra-large 7" multimedia touchscreen device.
Expand consumer choice by accepting any preferred method of payment.
Increase consumer engagement with innovative, value-added business apps.
Reduce checkout Total Cost of Ownership and drive incremental sales.
Highest Security
Meets the latest hardware and software security requirements and is PCI PTS 4.x certified. Also complies with SRED and Open Protocol modules. Optional PIN shield available. Supports the point-to-point encryption (P2PE) solutions
available in the market, thus reducing PCI DSS scope.

All Payment Options
Equipped to handle all forms of payment including EMV Chip & PIN, Chip & Sign, MagStripe, Signature Capture, and Contactless. Also supports new payment options such as NFC loyalty, couponing, wallets.

Electronic Signature
Offers signature capture capabilities for payment, receipt storage, and new business applications (for example: contracts, warranty programs, enrollment…). More secure cardholder recognition is possible through the unique biometric measurement criteria, including signature speed and pressure applied on the screen, thanks to unique design of the stylus with extra security and authentication features.

Designed for Retailers
Its glass display is highly resistant, with a lifespan of 1,000,000 signatures. Magnetic stripe reader with two magnetic heads, reducing the risk of read errors, and increasing transaction's speed. Single cable with a multipoint mono connector for easy integration and terminal replacement.

Fast Checkout
Optimized glass display to reduce reflectivity and offer the best readability in dim environments. LED lights guiding the card insertion or prompt to activate the contactless support. Large backlit keypad meeting the ADA requirements.
Fast processor, for instant transactions execution.

Connectivity and Communication
Provides a complete portfolio of connectivity: USB host/device, Ethernet, RS232 & Tailgate. Field-upgradable WiFi*, Bluethooth* and GPRS*. ComBox accessory increases the number of connectivity plugs to ease the solution's
integration.

Extra-large 7" 16/9 Capacitive Color Touchscreen
It's all about maximizing user experience. Its remarkable 7" 16/9 WVGA capacitive color touchscreen enhances application interactivity.

Real Multimedia
Equipped with a powerful hardware video decoder to play multimedia content from the standard ultra-compressed H264 codec with a speaker and a stereo out headset.

Telium 2 Advanced
Empowered to manage image libraries, touchscreen and multimedia.

Full Set of Retail Accessories
Tailored for easy integration (terminal stands, metal-reinforced Kensington® Security Slot).

Eco-Friendly Manufacturing
All our iSC Touch Series manufacturing facilities are ISO 14001 certifi ed.
* additional USB stick.
Product Information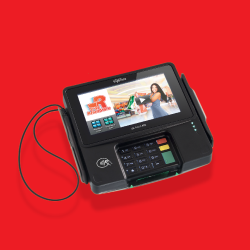 iSC Touch 480
Reinvent multilane checkout
Rethink consumer engagement